C Series Drainage Pumps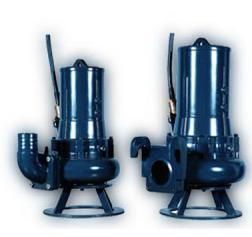 Series C Submersible Pumps with Waste Water and Chopper Blades
TECHNICAL SPECIFICATIONS :
• Standard pump C series submersible pumps are submersible pumps suitable for underwater operation, developed for the printing of liquids containing solid parts in large dimensions, especially domestic and industrial wastewater. In Series C pumps, fans of various types and models are used to produce clean or dirty water, domestic waste, liquors containing solid and fibrous parts, sandy or muddy water. Series C pumps are specially designed to work under water. It can also work in dry conditions for a short time. Mounting of pumps Pendants for Ø50 mm pumps, Ø80 and Ø100 mm. It can be done in the system of automatic coupling of wire rods for pumps or hose system for all ropes.
• Complex cast iron is produced.
• Wide fan-wheel option is available depending on the application.
• Capacity max. 200 m³ / h
• Liquid discharge temperature max. 40 ºC
• Solid part permeability max. 76 mm
MOTOR :
• Characteristics of STANDARD PUMP PM type submersible electric motors used in C series pumps
• Speed ......................... 1500 and 3000 / min.
• Power ......................: Between 1 Hp and 15 Hp
• Insulation Class ......: F (155)
• Protection Class .........: IP 68
• Cooling .................. with external water
DEPOSIT :
Standard pump Series C submersible pumps have a rotor and pump fan on one shaft. The rotor is centered on two heavy-duty bearings. The bearings are greased with grease. No maintenance is required during the two year study period.
SEALING :
Standard pump C series submersible pumps use high quality mechanical seals, which operate in the oil bath, between the engine and the pump fluid. In case of water leakage for any reason, the electrode system in the oil tank stops the system by signaling to the control panel. Thus, damage to the motor is prevented.
TEMPERATURE CONTROL SYSTEM :
•Standard pump C series submersible pumps are designed to work under water and cool down with water. If the motor is out of water, the motor will not warm up after a while. In this case, 130 ºC thermistors are installed in the stator windings to protect the motor. Sealing and motor temperature control signals are transmitted to the PC-ST1 protection and control functions in the standard pump control panel located on the surface control panel with auxiliary conductors in the power cable.
CONNECTION CABLE :
•Standard pump PM type C series submersible motors must be direct path. For this reason, three energy conductors are sufficient. (U-V-W) Four conductors with smaller cross-section are used for protection and control (E-T-T-Mp). The energy and control cable are connected to the engine body by a waterproof plug-and-socket system. Entrance points to the motor vehicle and to the cables are protected by full insulating resin.
PUMP :
• Standard C series pumps consist of 6 main models with Ø50, Ø80 and Ø100 mm mouth diameters. Depending on the nature of the liquid being pressed, the pressure, the size of the solid part, and the size of the solid part, different fan-wheels and structure shredding knives are used in these models.
• Type B Fan-Wheel: Large-bore small-pressure fan-wheel type with large blades that can print large sized solid particles without clogging. Single or double wing, closed type, radial fins on each side. More than 1500 rpm.
• Type D Fan - Car: Similar to Type B, but with 3000 rpm. . Solid part size is smaller, large press is suitable for small flow rate.
• Vx Type Fan - Impeller: Free vortex fan-ring, open type, located at the top of the snail. The pump can pass solid particles of the size of the mouth diameter. It is suitable for fibrous fluids. However, the overall efficiency of the pump is considerably smaller than other types.
• F Type Fan - Impeller: Fan impeller with splitter blade (grind). The shredder blade system made from hard material in front of the pump fan-ring reduces the soft solid parts in the liquid to a size that does not block the plumbing. The pump is fan-track open (vortex) type. It is suitable for small flow and high pressure systems. In this type of pump the overall efficiency is low.
USAGE AREAS :
• Pumping domestic waste
• In sewer systems
• Industrial and wastewater treatment plants
• In the printing of muddy and dirty water
• Transfer of fibrous and viscous fluids
• Water and flood drying
• Hospital, social facilities, sites, schools and apartments